Shorten Reserve, Market St, Footscray West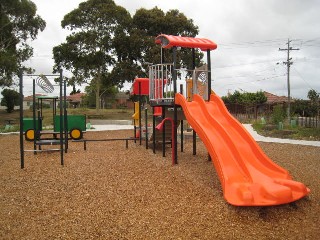 Fully enclosed playground next to an oval. A big green truck with steering wheel and seats in the back should get the kids attention. If not, there is a bird's nest swing, large sandpit and a structure with big dual slides, smaller slide, steps, music panel, balance beam, monkey rungs, twisted sheet for climbing, inclined walkway, binoculars, speak and listen and steering wheel. Also skate board springer and normal swings.

BBQ, water tap, shaded seats and unshaded tables. Paths to most of the equipment.


Photos:
5 Market St, Footscray West 3012, Victoria, Australia. View Map
Telephone:
Map: 41 Ref: J3