Arthur Calwell Reserve, Cashmere Street, Travancore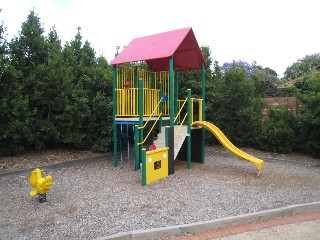 Set on an elevated block and slightly hidden away. Structure with slide, steps, climbing wall, shop front, speak and listen system, binoculars and steering wheel. Springer, clock panel, maze panel and a wooden climbing frame with hanging ladders and a rigid pipe ladder.

Lovely big shelter with table and BBQ. Also unshaded table and water tap. Some grassy area.


Photos:
Cnr Cashmere St and Mangalore St, Travancore 3032, Victoria, Australia. View Map
Telephone:
Map: 29 Ref: A11