Keilor Supersonics Singing and Dancing School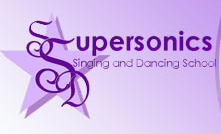 Supersonics is a professional performance based singing & dancing school offering a diverse range of styles, gender and levels. It aims to lead the way in all aspects of performance and is committed to delivering cutting edge, up to date choreography by some of the best choreographers. Our teachers are committed to inspire and build young and upcoming performers to strive towards their dreams.

Supersonics specialises in offering: Dance & Movement, Fairy Ballet (2-5 yo), Cecchetti Ballet, Contemporary, Tap, Hip Hop, CSTD Jazz, Song & Dance, Private Singing Lessons and Group ensembles, Drama Classes Junior / Senior School. Master Classes are also held in Musical Theatre, Hip Hop and Jazz Lyrical.

Whether you love performing for fun and fitness or as a career choice, Supersonics will get you there!

Located at Old Shire Hall, Cnr Kennedy Street & Calder Fwy, Keilor.


Kennedy Street, Keilor 3036, Victoria, Australia. View Map
Telephone: (03) 9337 8983 / 0438 627 876
Map: 14 Ref: H6

RELATED WEB RESOURCES

www.supersonics.com.au

Supersonics Singing & Dancing School on Facebook