Yarra Bend Park (Kew)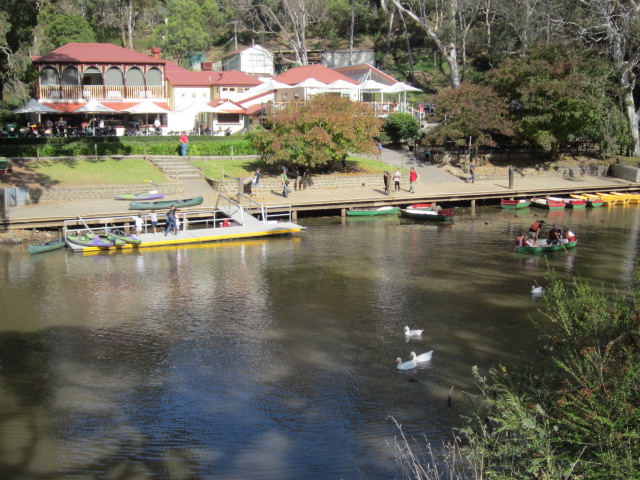 At Yarra Bend Park, the largest area of natural vegetation near the City of Melbourne, the landscape varies from steep, wild river escarpments to open woodlands, formal parkland, playing fields and golf courses. It has over 16 km of river frontage, and superb views of the city and the Dandenongs from the higher areas.

Things to Do

The park is used for boating, canoeing, team sports, golf, fishing, orienteering, picnicking, dining out, bird watching and just enjoying the bush.

A shared walking and bicycle path follows the Yarra and high above the Merri Creek in the western and northern parts of the park.'

Practise your casting at the international fly-casting pool

Open space and sporting fields are used for organised and informal sports including cricket, football, soccer and bocce.

There are many walking tracks at Yarra Bend Park to suit all fitness levels. The popular Main Yarra Trail passes through the park extending from Templestowe to Southbank. Secluded riverside trails follow the Yarra through peaceful bush surrounds. Varying length circuit trails take you to popular sites including Dights Falls and Deep Rock.

18 hole golf course and 9 hole par 3 golf course.
Facilities
Studley Park Boathouse, built in 1863 and recently restored, offers cafe, bistro and restaurant dining and canoe and rowboat hire.

Picnic areas

Kanes Bridge leads across the river to picnic areas, sports grounds and the 18 hole Yarra Bend Golf Course.

The nine hole Studley Park Par 3 Golf Course is situated on Walmer Street, Kew.

Studley Park Picnic Area (close by Studley Park Boathouse) offers picnic shelters, electric barbecues and toilet facilities.

Bellbird Picnic Area (off Yarra Boulevard) offers a peaceful alternative to busy Studley Park. This setting provides a shelter, electric barbecue, toilet facilities and canoe-launching ramp.
Heritage
The junction of the Merri Creek and Yarra River on the western side of the park was an important meeting site for the Wurrundjeri people, with good hunting and fishing.

When Europeans arrived, the natural beauty of the area was soon recognised and a location in the south of the park was considered as a site for the first Government House. This area and surrounds were reserved as parkland in 1877.

At Dight's Falls, a weir was built on a natural rock bar in the early 1840s to supply water to the Dight brothers' flour mill - the old bluestone water channel and ruins of the mill can still be found on the north bank.

A number of institutions were established in the park throughout the nineteenth century, the most significant being the Yarra Bend Lunatic Asylum established at the end of Yarra Bend Road in 1848. The Asylum was closed in 1925, the only remnants being mature Elms and Moreton Bay fig trees, and a bluestone pillar.

Fauna
A total of 185 indigenous native fauna species have been recorded within Yarra Bend Park, including 125 bird, 10 mammal, 19 reptile, 15 butterfly, 5 amphibian and 11 freshwater fish. The Park contains 13 of Victorian's 178 threatened fauna species including seven endangered and four vulnerable species. Birds commonly seen in Yarra Bend Park include the Rainbow Lorikeet, Red-rumped Parrot and on occasions, theYellow-tailed Black Cockatoo. Mammals found in the park include Echidnas, native Water Rats and Brush-tail and Ringtail Possums.

Grey-headed Flying-foxes at Yarra Bend Park
Grey-headed Flying-foxes are an important part of Melbourne's wildlife, and until recently have been roosting in the Royal Botanic Gardens. Their presence in the Royal Botanic Gardens was not sustainable due to the sensitive nature of the vegetation.

A relocation project was undertaken and the colony was successfully moved out of the Royal Botanic Gardens. In October 2003, the colony moved to Yarra Bend Park, where the females gave birth and raised their young over the summer months. Recently the State Government announced that Yarra Bend Park would remain the permanent roost site for Melbourne's colony of Grey-headed Flying-foxes. The flying-fox colony is best viewed from Yarra Boulevard or Bellbird Picnic Area (Melway Map 44 K3). For more information about Melbourne's flying-foxes, contact the Department of Sustainability and Environment on 136 186 or visit the Department's website: www.dse.vic.gov.au

Vegetation
Yarra Bend Park contains some of the last stands of original bushland in inner Melbourne, with approximately half of the park covered by indigenous vegetation. The Park supports a high diversity of indigenous plants (approximately 292) and is defined by two broad vegetation groups, these being Plains Grassy Woodland and Valley Grassy Forest. Yarra Bend Park contains 7 of the state's threatened flora species, one endangered, three vulnerable and three species suspected of being endangered, vulnerable or rare. In addition, 117 flora species are recognised as being important in the Melbourne Region.

Looking After the Park

No dogs or bicycles in bushland conservation areas.

Yarra Bend Park has a "Carry In - Carry Out" rubbish policy. Please take all rubbish with you when you leave.

Abide by the On and Off Lead Dog Zones shown on the park map.

Solid fuel barbecues or ovens (those that use wood, charcoal or briquettes) are not permitted at Yarra Bend Park.

On days of Total Fire Ban, use only electric barbeques provided.

Car parking is permitted only in marked spaces. No vehicles to be parked on ovals or open grass areas.

Remember that all native plants and animals are protected.
Precautions
Care should be taken while walking on trails in bush areas near escarpments.

Snakes are active during the warmer months at Yarra Bend Park.
How to Get There
The park can be accessed by car or bus via Studley Park Road and Yarra Boulevard, Kew, or Yarra Bend Road, off Heidelberg Road, Fairfield. (Melway ref: 2D).


Review:

There are a range of activities centred around the Studley Park Boathouse but also a decent 4km return walk following the Yarra River from Kane's Bridge all the way to Dights Falls (which has now been replaced by a new fishway). There are enough interesting elements along the walk to keep the kids involved.


Photos:
Yarra Boulevard, Kew 3101, Victoria, Australia. View Map
Telephone:
Map: 2D Ref: K5

RELATED WEB RESOURCES

Yarra Bend Park

Yarra Bend Park - Visitor Guide (PDF)

Studley Park Boathouse Website

Studley Park Boathouse on Facebook

Dights Falls Loop Trail (Park Notes)