Karkarook Park (Heatherton)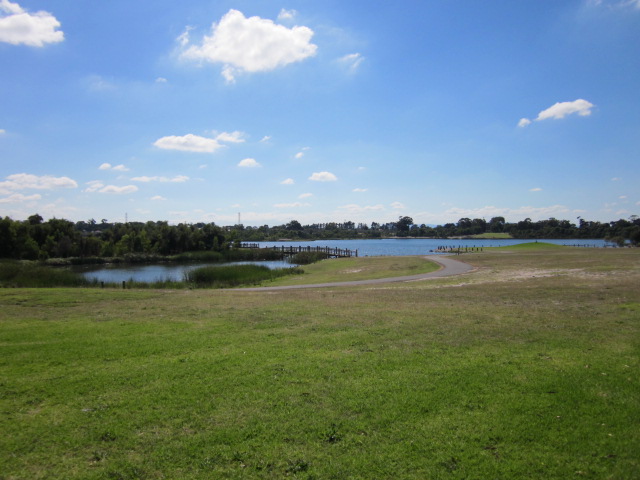 Karkarook Park in Melbourne's south-eastern suburbs has been developed as a recreation and wetland area. Ultimately, the park will be part of a larger open space link providing significant recreational opportunities.

Things to Do

Karkarook Park boasts serpentine wetlands, trails, picnic areas, a playground and a lake.
Facilities
Toilets, playground, free electric barbecues, piers, viewing platform, boat trailer parking, community nursery, picnic shelters and parking are all available.
Heritage
In 1997, Parks Victoria entered into a partnership with CSR Limited and Boral Resources to extract sand from the site and then rehabilitate it to form a new recreational lake, wetlands and parkland.

Sand extraction was completed in 2001. The first stages of rehabilitation were completed with the creation of serpentine wetlands, trails, picnic areas, toilets, a playground, access roads and parking. The lake, a major feature of the park, was completed and filled in 2004. The lake has been surrounded by open space, new vegetation, a trail system for walking and cycling and new picnic facilities, all to be ultimately linked with other parks and amenities in the region.

Prior to sand removal, Karkarook Park and adjacent areas were largely used as a storm-water retarding basin and for market gardens and horse agistment. Much of this was weed infested and strewn with rubbish- not an attractive place for a picnic.

Fauna
Since the development of the wetlands in 1998, over 90 species of native waterfowl have been recorded in the park. Over time the wetlands will mature and this number will increase.

The general bird population will also increase as the available habitat develops within the park, which will occur through the ongoing revegetation program. The whole parkland will become an important location for many species of birds over the years as they return to make Karkarook Park their home.

Vegetation
Most of the indigenous flora in the park has been cleared since European settlement. The few remnants provide the only vegetation cover within the park. A revegetation program began in 1995 with the assistance of local primary schools, but many of the seedlings were destroyed by a grass fire in January 1997. Since then revegetation works have increased and an annual revegetation program is now in place.

The wetlands of Karkarook Park also serve an important function. Storm-water becomes polluted when rubbish and other pollutants are washed from the roads and the urban areas surrounding Karkarook into the storm water system. The wetlands improve water quality by 'cleaning' storm-water as it flows through them. Gross Litter Traps at the park entrance remove floating rubbish like plastic bottles, straws and plastic bags.

Further removal of gravels, sands, silt, oils and other particles occurs by treatment without the use of chemicals. Wetland plants reduce dissolved nutrients flowing into creeks and eventually to Port Phillip Bay.

The wetlands at Karkarook help prevent flooding and erosion after rain. Excess storm-water is stored in the wetlands, raising their water level. The stored water is then slowly released to the creek downstream. By storing the water over a period of time the wetlands create a more stable flow rate downstream and help to control flooding.

Looking After the Park

Swimming or diving in the lake is not permitted.

Windsurfing is not permitted.

Fishing is permitted in designated zones at Karkarook - please check the sign at the park.

No power boats or motorised model boats are allowed on the lake. Non-powered model boats are permitted.

Please take your rubbish with you.

All plants and animals are protected.

Please do not feed the birds or other animals as this can create dependency and may interfere with the animals' natural behaviour.

Dogs must be on leads at all times.
Precautions
Parks Victoria cannot guarantee the water quality of the lake at Karkarook Park so please adhere strictly to the specified guidelines.


Opening Hours:

Open access at all times. Karkarook Park is easily accessible by vehicle as it is located alongside Warrigal Road. Take buses 700 and 701 from Oakleigh or Mentone


Cost:

Free


Review:

Quite a nice park in the city environs. There is a large lake with a circuit path 1805m long.
Plenty of grassy areas with BBQ facilities. There is a playground near the entrance area.


Photos:
10 Fairchild Street, Heatherton 3202, Victoria, Australia. View Map
Telephone:
Map: 78 Ref: D7

RELATED WEB RESOURCES

Karkarook Park

Karkarook Park Park Notes