Albert Park & Albert Park Lake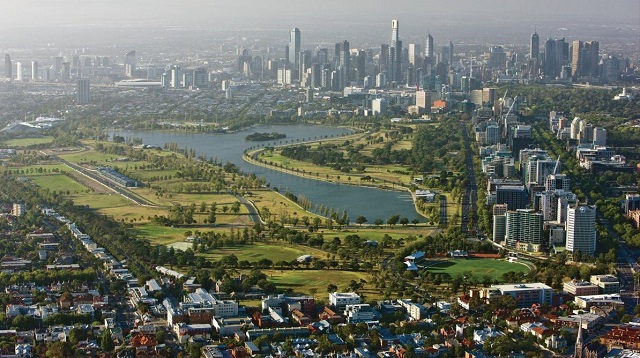 Albert Park is approximately three km from the CBD of Melbourne. It is a 225 ha sporting and recreational park that caters for formal and informal recreation. Albert Park is the focus for many of Victoria's spectacular events and is also an important sanctuary for wildlife and vegetation.

Things to do:

Enjoy a barbecue or picnic with your family.

Join a yacht or rowing club, take lessons or just hire a boat for fun.

Walk, cycle, or jog around the lake (5km), taking in the swans and sporting activities.

Facilities:
11 picnic areas with barbecue, shelters and toilets. Playgrounds ranging from lawns to purpose-built play equipment.

Baby changing facilities.

Restaurants which take in the views of the lake and the passing parade.

Indoor sporting facilities include basketball, netball, badminton, squash, table tennis, indoor cricket and a gym.

Outdoor sporting facilities cater for cricket, football, soccer, baseball, hockey, lawn bowls, tennis and boating.

Albert Park Golf Course and Golf Driving Range.

The Melbourne Sports and Aquatic Centre.

Heritage:
Evidence indicates that Aborigines inhabited Albert Park and the surrounds some 40,000 years ago. Albert Park was a series of swamps and lagoons that provided edible vegetation. In 1864 the Park was proclaimed a public park and named Albert Park in honour of Queen Victoria's devoted consort, Prince Albert. Over the ensuing years Albert Park was used as a tip, as a camp for the armed services, for scenic drives and for many forms of recreation.

Today the magnificent Albert Park is enjoyed by approximately 3,500,000 visitors annually. Vestiges of Albert Park's Aboriginal history still remain, the most noticeable being the large ancient River Red Gum Tree, reputed to be the site of many corroborees. It is thought to be over 300 years old, the oldest remnant tree in the Port Phillip area, located next to Junction Oval on the corner of Fitzroy Street and Queens Road, St Kilda.

The Clarendon Street gates are the best manifestations of European history. Originally built of wooden pickets in 1910, they were cast in wrought iron in 1939 and can still be seen today.

Fauna:
Over 100 bird species have been recorded in the park including significant wetland species such as the Cattle Egret, Common Tern, Eastern Curlew, Great Egret, Pomarine Jaeger and White-throated Needletail. Black Swans and Pacific Black Ducks are common, both feeding and breeding in the park.

Native mammals, reptiles and amphibians in the park include Common Bent-wing Bats. Common Brushtail Possums, Glossy Grass Skinks and Common Froglets.

Vegetation:
Albert Park contains four wetland areas, the largest being Albert Park Lake. The two native vegetation communities in the park are Grassy Wetlands and Plain Grass Woodlands. The most significant areas of vegetation are on Gunn Island and around the Corroboree Tree.

The islands at the north end of the lake provide habitats for native wildlife such as wetland and migratory birds.

A vegetation survey was completed in July 1992, identifying 117 species. The vegetation cover of Albert Park is largely composed of a mixture of native and exotic trees. New avenues of exotic trees have been established alongside roadways, pathways, important edges and in car parks. Groups of native tree species will be planted primarily between sports fields and in the under used 'corners' of the park. The bulk of the vegetation is located around the perimeter of the park, along roadsides or between fairways in the golf courses. The trees are generally either in avenues or clusters.

How to get there:
There are trams in Albert Road and Fitzroy Street and a Light Rail along Canterbury Road, with entrances from Albert Road (Melway ref: 2K G4), Queens Road (Melway ref: 2L B11) and Fitzroy Street (Melway ref: 58 B8). Parking is available throughout the park.


Opening Hours:

Open 24/7


Cost:

Free


Review:

Lots of space close to the city but scarcely more than a location for sports.


Photos:
Lakeside Drive, Albert Park 3206, Victoria, Australia. View Map
Telephone:
Map: 2K Ref:G8

RELATED WEB RESOURCES

Albert Park