Knox LeisureWorks (Boronia)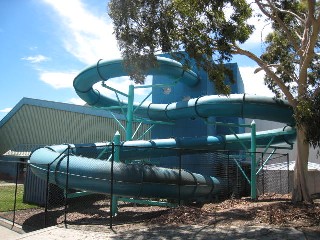 A huge range of aquatics under one roof. . .
The facility has a huge aquatic area with five indoor pools, two outdoor pools and an 80 metre all weather waterslide.

The freeform beach entry leisure pool has a frogslide, umbrella, fan, sieve and pole shower water features, and an ankle deep toddlers wading pool. The wading pool and small section of the leisure pool also have air bubble beds that operate in succession with the spray features. The leisure pool is 0.9 metres deep at its deepest point and is maintained at 31 degrees celsius. The short ends of the pool have part depth seats. This is a no dive pool.

The 50 metre lap pool has a wet deck concourse and 8 divisible lanes. Accessibility is provided by two sets of steps at the shallow end (0.9 metres), wall mounted ladders at mid and deep end (1.6 metres), and a ramp entry. This pool is maintained at 28.5 degrees celsius. This is a no dive pool.

A spacious spa is situated next to the leisure pool and is 0.9 metres deep. Access is via steps or a pneumatic hoist is available. The spa is maintained at 37 degrees celsius and has provides water jets. Aeration via bubbles is not available.

Lessons and parties are held in the program pool which is 0.9 metres at its shallowest and 1.1 metres at the deepest. Access is via full breadth steps or a pneumatic hoist is available. This pool has water basketball rings and is maintained at 31.5 degrees celsius. This is a no dive pool.

The 80 metre indoor waterslide is a prominent feature of the facility. Accessibility is by staircase into the slide tower. Participants launch into the slide tube and can take as little as 13 seconds to finish in the flume. The flume is a shallow slide finish with a variable depth.

Outdoor Aquatics (Summer fun)
Our extensive outdoor recreation area is available over summer for recreational swimming and relaxing.

We open the outdoor area on days where the temperature is FORECAST by the Bureau of Meteorology to be 26C or more, after 3:00pm on school days and after 12:00pm on weekends and public holidays from December 1st until March 31st.

Our 25 metre outdoor pool is 0.9m to 1.2m deep. It is not heated, although in summer the water can reach 23-24C.

The toddler pool is 0.3m deep at its deepest point and is not heated. Our free barbecue facilities are available for all to use.


Opening Hours:
Opening Hours
Cost:

(As at Jan 2015)
Child: $4.80
Adult: $6:70
Family: $17.00

SplashDown is held at certain times and provides unlimited use of the slide and inflatables. This is $8.80 (including general entry). At other times the slide is $1 per slide.


Review:

Very extensive range of indoor and outdoor pools. There is a frog slide for toddlers and a 80m waterslide for 4 years and older. It is not possible to have children on your lap on the waterslide. It is necessary to buy separate tickets for the waterslide. The slide only operates for limited hours and the allocation of tickets can be exhausted very quickly. Therefore do not have your heart set on going down the waterslide because that may not be possible at all times. The slide is fully enclosed but there is plenty of light inside and the ride is quite slow.

When there are no lessons or parties, the program pool is quiet and warm. However, be careful when getting into the pool. When we were there, the pool had been overfilled and the plastic decking lining the inside of the pool floated loose. When I put my foot down on the decking it gave way and resulted in quite bad abrasions and bruises on my lower leg. I have no way of knowing whether this was an isolated incident or a general malaise about safety.

Outside is a wooden boat containing a large picnic table, deck chairs, BBQ, shelters and tables.


Photos:
42 Tormore Road, Boronia 3155, Victoria, Australia. View Map
Telephone: (03) 9762 3133
Map: 64 Ref: J8

RELATED WEB RESOURCES

www.knox.ymca.org.au/

Knox LeisureWorks YMCA on Facebook