Fitzroy Gardens Playground, Clarendon Street, East Melbourne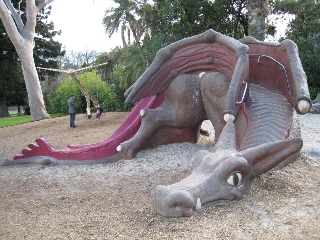 The playground is in the midst of Fitzroy Gardens. Enter from level with Grey Street. Slide down the dragon's tail, swing on the giraffe's ears, see how the dragon glows in the dark! There is a fantastic dragon slide, giraffe shaped swing and large sandpit.

Seats in a shaded area and public toilets. There is also a lake and plenty of area for walking.


Photos:
Cnr Clarendon Street and Grey St, East Melbourne 3002, Victoria, Australia. View Map
Telephone:
Map: 2G Ref: C2