Central Reserve, Springvale Road (Cnr Waverley Rd), Glen Waverley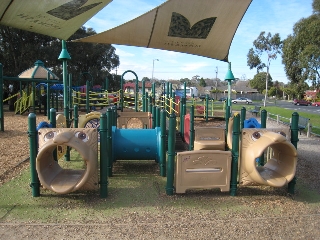 Bit too close to busy Springvale Road and the area is not enclosed. Nice climbing web. Close to cricket ground so Dad can watch cricket!

Late news: The playground now has a mid-height fence on the Springvale Road side and is now much safer.


Photos:
Cnr Springvale Road and Cnr Waverley Rd, Glen Waverley 3150, Victoria, Australia. View Map
Telephone:
Map: 71 Ref: C5